A clutch is a combination of three parts i.e Clutch Plate, Pressure Plate and Release bearing. These parts are vital part of you're vehicle which are design to create friction lock up between engine and transmission input shaft. This design allows you a smooth engage and disengage between the gears in order to maintain engine speed and allows a driver to have a great amount of control over the speed of their car.
Is your vehicle is suffering from any of the any following issues:
High Revs on Hills/Inclines
Difficulty Engaging Gears
Excessive Slipping
Unusual Noises
Spongy Clutch Pedal
Pedal Too High
Pedal Dropping
Juddering (Vibrations)
Loss of Smooth Control
Concentric Slave Cylinder Failure
Clutch Master Cylinder Failure
Pressure Plate Failure
Clutch Plate Failure
Release Bearing Failure
Dual Mask Flywheel Failure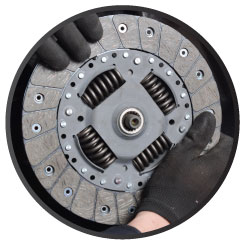 We offer all these services and repairs to cars and light commercial vehicles alike. In our clutch kit replacement we use genuine parts or OEM quality replacement parts from trusted providers such as LUCAS, VALEO AND LUK etc.
We are so proud of our workmanship that we provide a guarantee for every work carried out on your vehicle and a transparent pricing policy, meaning that the price we quote is the price that you pay.
Book an appointment today using our handy Contact us form or by calling us on 01922 409070